Connecting anglers to make fishing dreams come true, today and tomorrow.

Fishbrain's mission
Who are we?
Fishbrain is a tech company with a global user base of over 15 million anglers. We have built the no. 1 app for people who love fishing, whether they want to find new places to fish or connect with other anglers. In order to make the world's biggest hobby more accessible to people all over the world, we at Fishbrain work with the latest tech and continue to challenge ourselves every day. We want the Fishbrain years to be a time to grow and develop both in terms of career and on a personal level, which is why we so heavily value a work culture that encourages innovation, passion and teamwork. And most importantly, enjoying coming to work every single day.
Our culture
Some of us fish, some of us love the outdoors, but all of us are united in building the best fishing experience. We have 70+ employees, boasting almost 30+ different nationalities. At Fishbrain, we love diversity, we embrace and welcome new ideas, we move fast and live by the dare to fail mentality. Working at Fishbrain you will be seen as the expert within your field, at the same time we help each other and believe in winning as a team.

The People & Culture Team's Mission:
"Making Fishbrain the best catch inside and out."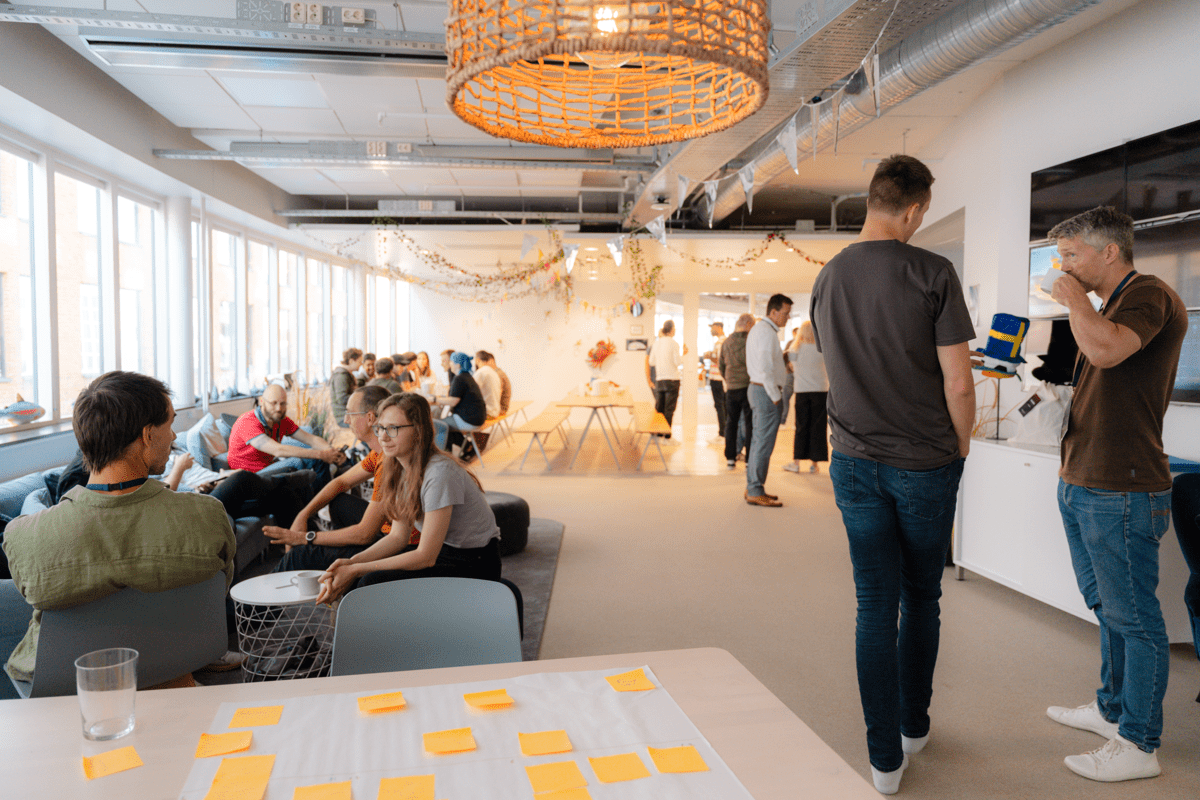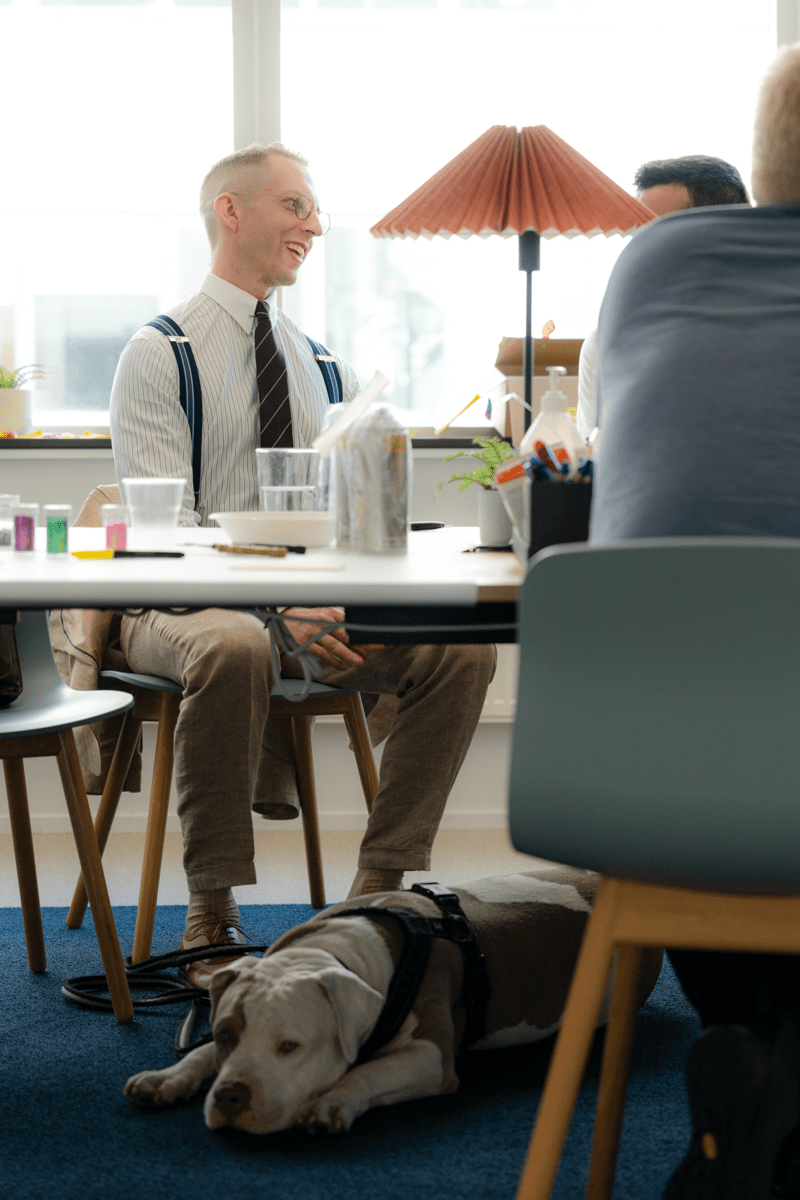 Meet some of us
Fishbrain gives me an opportunity to work in an amazing team while combining my work and lifestyle in tech and fishing.

Riku Vuorenmaa

Director of Product & Engineering

My favorite thing about working at Fishbrain is that we trust that we are experts within our own areas. But even so, we aren't afraid to ask why and how others do things, because we all strive towards the same goal and want Fishbrain to become its best self! And dogs, I like the dogs.

Sara Oldner

Marketing Design Manager

The culture here is great. I get to work with an amazing team of people and Fishbrain supports organisations like Pink Programming that work to improve diversity in tech. Plus I love all the fish jokes of course!

Holly Thomas

Frontend Engineer

When I first started getting back into fishing 6 years ago, Fishbrain made all the difference. I'm thrilled to work for a company that makes such an impact on millions of anglers and on the sport of fishing as a whole. And the team here is amazing! Everyone is genuinely positive and supportive, making every day and every project more enjoyable

Nate Roman

Product Manager
Life at Fishbrain

Curious about what a normal day looks like for a Fishbrainer? Follow us life.at.fishbrain

Our values
We care

We care about our customers, each other, and ourselves as we work to build a safe and inclusive culture where we're always assuming good intent. We believe in protecting the environment we all live and fish in.

We dare

We dare to take ownership and be accountable, to speak up, and to challenge the status quo. We're unafraid to innovate, and we dare to fail. We love not taking ourselves too seriously and having fun.
We win together

We value transparent communication, collaboration, and building a culture of trust and respect inside-and-out. We are one team. We swim and win together.

We impact fishing

We're passionate about what we do at Fishbrain. We are committed to making a positive impact on our anglers and on the industry. We strive to create value for our customers in all that we do. We live and innovate fishing.
Our bait
🌴 30 days annual vacation

Each year you'll get 30 days vacation to use however, whenever

🤸‍♀️ Wellness bonus

5000 sek annual allowance to put towards anything in the realm of health and fitness

💻📱 Technology of your choice

🌎 Commitment to sustainability

We believe in catch & release and the sustainable harvest of fish species, because when it comes to the outdoors, tomorrow matters too. Our global data set is one of the largest in the world, and we freely share it with scientific research partners in both North America and Europe to better understand our fisheries

🎣 Fishing rods in the office

Grab one and go fishing. We have fishing guides and experts working among us that can help you catch your dream fish

🐕 Dog friendly

Feel free to bring your furry friend to the office

🥳 Social activities

Quizzes, virtual escape rooms, parties, regular fikas, fishing tournaments and much more!

🥪 Breakfast

Every Wednesday we start the day with a breakfast together

🍭 Candy, soda, fruits & snacks

☕️ Coffee and tea

🎮 Gaming corner

🏓 Ping pong
About Fishbrain
Fishbrain is a tech startup with a global user base of over 15 million anglers. Fishing is not only the world's no. 1 hobby - it's a passion for people worldwide. Even if you don't personally love fishing, you definitely know someone who does. But Fishbrain thinks there's a way for technology to improve this age-old tradition. Fishbrain works with the latest tech, from AR to machine learning. And Fishbrain is backed by the investors behind some of the most successful social networks and apps.
Already working at Fishbrain?
Let's recruit together and find your next colleague.